Book Clubs and Reading Groups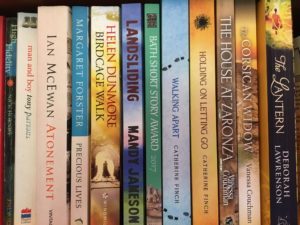 Catherine's novels are an ideal selection for book clubs and reading groups. If your group wish to use either Walking Apart, or Holding On Letting Go, please contact the author to discuss preferential purchase rates for multiple copies.
Some groups like to meet an author to discuss characters, plot line or setting in more detail, and sometimes have an agenda of their own! Catherine will be happy to visit local groups, usually free of charge for travel within the area of Blackburn and the Ribble Valley. Alternately, book an on-line video call using the email address: catherinesfinch7@gmail.com
The discussion questions below have been worded in such a way that a quick glance through them should not reveal the storyline.
Walking Apart
Discussion questions for reading groups
For the person who chose the book: what was your motivation for suggesting this novel? How did you think it would be received by the group?
How realistic did you find the portrayal of Helen's job and the effect of an Ofsted inspection on a school community? This can be an interesting question depending on whether you have experience of working in a primary school or not.
In the first part of the novel, Helen is struggling with the demands of her job; David with his retirement. They have different visions of what the future holds. Who evokes the most sympathy?
A major theme throughout the book is the issue of control. Helen and David are strong characters, both trying to take control of their lives. Did you feel either one managed this better than the other?
Chapter 17 is written from Karen's point of view. What thoughts might have been running through David's mind during the scene at her cottage?
Did the minor characters add to the narrative? Which of these characters appealed to you the most?
How much did the Lancashire/Lake District/Melbourne setting enhance your experience of reading Walking Apart?
Near the end of the book, Helen asks David to be honest with her, but he refuses. Should he have come clean and told his wife everything she wanted to know? Do you visualise repercussions?
How satisfactory did you find the ending?