Are you wondering what to read during lock down? If you like books but don't have the time or the patience to tackle a whole novel, reading short stories could be a good option. The best short story authors paint a picture with their words in a few pages and many readers are unaware that some of their favourite authors are masters of the short story. Both Geoffrey Archer and Stephen King published more than 200 stories each. Margaret Atwood, who wrote The Handmaid's Tale, produced four anthologies, yet the most prolific of all was the children's author, Enid Blyton, who wrote over 4500 short stories for children.
Moving Pictures, published in January 2021, takes the reader to Lisbon, the Holy Land and rural France, but just as engaging are the stories set nearer home in the north west of England. We meet Emma on Preston station escaping her abusive husband, a pregnant teenager who finds peace as she crosses Slaters Bridge in Little Langdale, Francesca shopping on Blackburn Market in the 1970s and a ghostly figure walking the sands of Morecambe Bay. The final story takes us back to a family holiday in Lytham St Annes during Blackburn's annual wakes week, the same week in July1969 that Neil Armstrong placed his foot on the moon.
'Is it real? It's like a Blue Peter model.'
I peered at Armstrong and Aldrin in their spacesuits, at the Lunar Module, flimsy and delicate, seemingly made out of silver paper and sticky-back plastic
We were accepting the impossible, witnessing the incredible, desperately believing something we couldn't quite understand.
 Perhaps you can recall where you were when the black and white images of the astronauts appeared on our screens?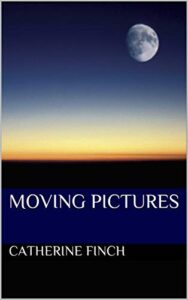 Moving Pictures includes competition winners, stories that reached a shortlist or were selected for publication, flash fiction (less than 500 words) and longer narratives. What all 17 of the pieces share is an emphasis on family life, love in its many forms and the strengths and weaknesses of human relationships.